Core Complete CBD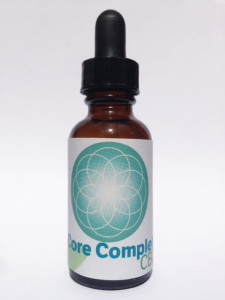 INGREDIENTS:
Contains: Cannabidiol rich hemp oil (CBD + CBD-A, 50:50)
250mg CBD/CBD-A per fluid ounce
1) Steam distilled cannabis sativa/hemp essential oil (hemp terpenes, flavanoids, aldehydes, ketones)
2) Organic extra virgin Olive Oil
CORE CBD COMPLETE
Contains both the decarboxylated and non-decarboxylated forms of cannabidiol (CBD) rich hemp oil.
Instead of just CBD, this blend has approximately 50:50 ratio of CO2 extracted CBD + CBD-A (the acid form of cannabidiol) and an additional set of therapeutic constituents known as terpenes.
This steam distilled hemp essential oil contains at least 26 different aromatic terpenes plus various aldehydes and ketones.
This blend is the most comprehensive hemp supplement on the market.
All these hemp ingredients are strategically based in an organic, extra virgin olive oil, NOT hemp seed oil (cold pressed hemp seeds).  Olive oil is the base oil for this blend, for one major reason. Hemp seed oil contains oxalic acids and children and adults, especially those on the spectrum, autisim or diagnoses can have oxalate sensitivity. Because a fair amount of CBD users give these oils to their children we used olive oil instead, which doesn't contain any oxalic acids.
Available Sizes
.25oz – $25
.5oz – $45
1oz – $90
To Purchase:
Please contact me to purchase via local pick up or shipment to states where CBD is legal ONLY.
Indicate which size you would like and orders shipped are subject to shipping costs: 941-726-2345