Baby Massage: From Infancy Through Childhood
A hands on way to love your baby!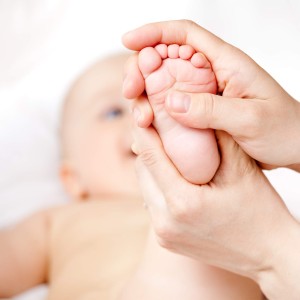 In many cultures, infant massage is a vital part of welcoming babies into the world because of it's many health benefits.  When my boys were babies, they loved their special massage time with mom.  They responded positively to the physical attention while the massage enhanced their health, digestion and feelings of love and security. Its easy, fun, safe and will add about 15-20 minutes to your daily routine.  Its great for all care givers to learn, especially dads and partners, giving them another opportunity to bond with baby. Read on for the many benefits of infant massage, as well as tips and tricks to get you started.
The first thing to know is that its benefits are supported by many research studies.  If you are a research junkie, you may enjoy learning more about the extensive overview of infant massage studies done at the Touch Research Institute at the University of Miami. please hyperlin to http://www6.miami.edu/touch-research/About.html

It's best to start when baby is at least 4 weeks old, but before they crawl.  Newborns may be too little to actually enjoy massage, but once baby is crawling it's harder to keep them focused.  Starting massage in that age window will help baby get used to the massage and look forward to it, making it easier to do even after they start cruising.
Start with these simple basics:
Find a time when baby is awake, alert, and ready for play.  Avoid massage while baby has a full belly and make sure they have burped. Avoid  full body massage when your child has a high fever due to illness.  If they are constipated with fever,  massage the belly only.
A natural oil should be used, not rubbing with dry hands, through clothing, or rubbing with baby powder. I do not recommend using ANY lotions which contain parabens, baby oil with petroleum,  perfumes, dyes, or scents.  If you would not eat it, don't use it on your baby's skin!  Try olive oil, coconut oil, or sesame oil (not toasted).
Find a comfortable warm space without bright overhead lights.  Sitting on the floor or on a bed is traditional.  Place baby, sans clothing, on a soft towel  (A little cloth on baby boys will help avoid a little shower!)  Be prepared for a bowel movement during massage as massaging the belly will move gas and promote BM's.
To be most effective, the massage should incorporate strokes on the legs, arms, belly and back.  Start with one leg, directing the pressure up the leg and toward the heart.  I like to do things in 3′s.  Start with 3 full strokes on the leg from the calf to the groin. Do one thing at a time so you don't overwhelm them.
Next,  3 milking strokes on the cute little upper thigh.  Be sure to open up all the folds! Move to the next leg and repeat.
Move upward to the belly where you'll massage down and clockwise. Start with your first 2 fingers and gently paddle down towards the navel.  Use the same pressure as you would if you were to massage your breasts. Stick with strokes of 3. After paddling, begin to make a clockwise circle around the belly (below the ribs and about 1 ½ inches from the navel).
After belly massage, turn baby over to massage his back like you would pet a cat; soothing strokes along the spine.
When you follow these massage tips regularly, there are so many areas that are enhanced in baby's little life!
SLEEP — Massage is both stimulating and relaxing, like exercise. For babies, massage helps them relax and promotes deeper sleep cycles by lowering the stress hormone Cortisol.
DIGESTION — Even babies need help getting things moving through their digestive tracts. Whether it's a burp, gas, or having a BM, babies need all the natural support they can get, especially in their first year.  Belly massage can help expel gas and get things going in the right direction.
BODY AWARENESS — Touching your baby's feet and moving their legs invites them to an awareness of their feet thru the nervous system, which is developing rapidly with each experience.  Massage helps baby become aware of their body in time and space.  This enhances brain development, sensory integration, balance, and coordination.
IMMUNITY — Massage moves blood and increases the production of lymphocytes which are cells that help the immune system defend the body from germs.
BONDING — Babies translate attention as love and security.  Massage helps them feel nurtured and loved,  along with empowering the bond between baby and caregiver.
STRESS — A decrease in pain, stress, anxiety and tension is experienced by both giver and receiver in massage. The same is true for infant massage.
HEALTHY TOUCH — Establishing healthy boundaries by positive touch is a wonderful side benefit of a child who has been massaged from a young age.   Trust in others is fostered through loving touch.
I mentioned earlier that my boys loved their massage time as babies. As they grew, we naturally adjusted our massage routine and they continued to benefit from the massage.  A simple back massage before bed time helps them sleep. Massaging their legs when they had growing pains helped both with the pain and with the emotional support. A hand massage after baseball released the tension of the game.  
As your child ages, your routine will change and reflect your child's needs. Massage is easily incorporated into every stage of childhood and will be one of the many memories they carry with them.  Give your child a massage and someday they may just give you one back! -Dr. Deanine
If you would like to learn more,  I recommend the following book: